Stick Keys Guide/Hold Ctrl
Introduction:
Greetings Everyone, I have seen a lot of posts in the forums that most of our fellow Infinitians do not know how to use our Computer's Stick Keys function. I have seen wierd and crazy ways of holding CTRL button, some insert a coin and some put rocks or other heavy objects to hold the Ctrl key for them.
This guide will show you how to use the stick keys function of your computer.

Instructions:
Enabling:
1. Press shift 5 times (for some PC's you have to rapidly hit left shift until it pops out)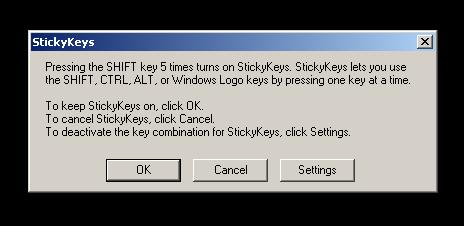 2. Click ok
3. Stickkeys is now enabled ,Your CTRL button can now be sticked by tapping it 2 times
(meaning you can now PVP without having to hold CTRL since it has been sticked by our PC's own stick keys function)
Disabling:
1. Hold LEft shift and Right shift together
2. Your stickkeys function is now disabled
Is using Stick Keys a cheat?
NO, it is a windows function. It is not a 3rd party software which alter game play and it cannot be blocked.
2. Will it make my computer slower?
It depends on the degree of Slow in your own definition but Generally it does not slow down your system.

If anybody or anyone has a question about the topic please post in this thread.
Thank you and Have a nice day !